Explore FP's world-class solutions to elevate our partners' thought leadership and engage our global, influential audience.
FP enables partners to make a mark on the global stage through high-profile events, ground-breaking analysis, award-winning podcasts, bespoke crisis simulations, and targeted advertising campaigns.
OUR REACH
1M+
Newsletter Subscribers
OUR AUDIENCE
INVOLVED
67 percent work in a
field relevant to international relations
INFLUENTIAL
20 percent
serve as leaders in government
POWERFUL
13 percent lead
a division or company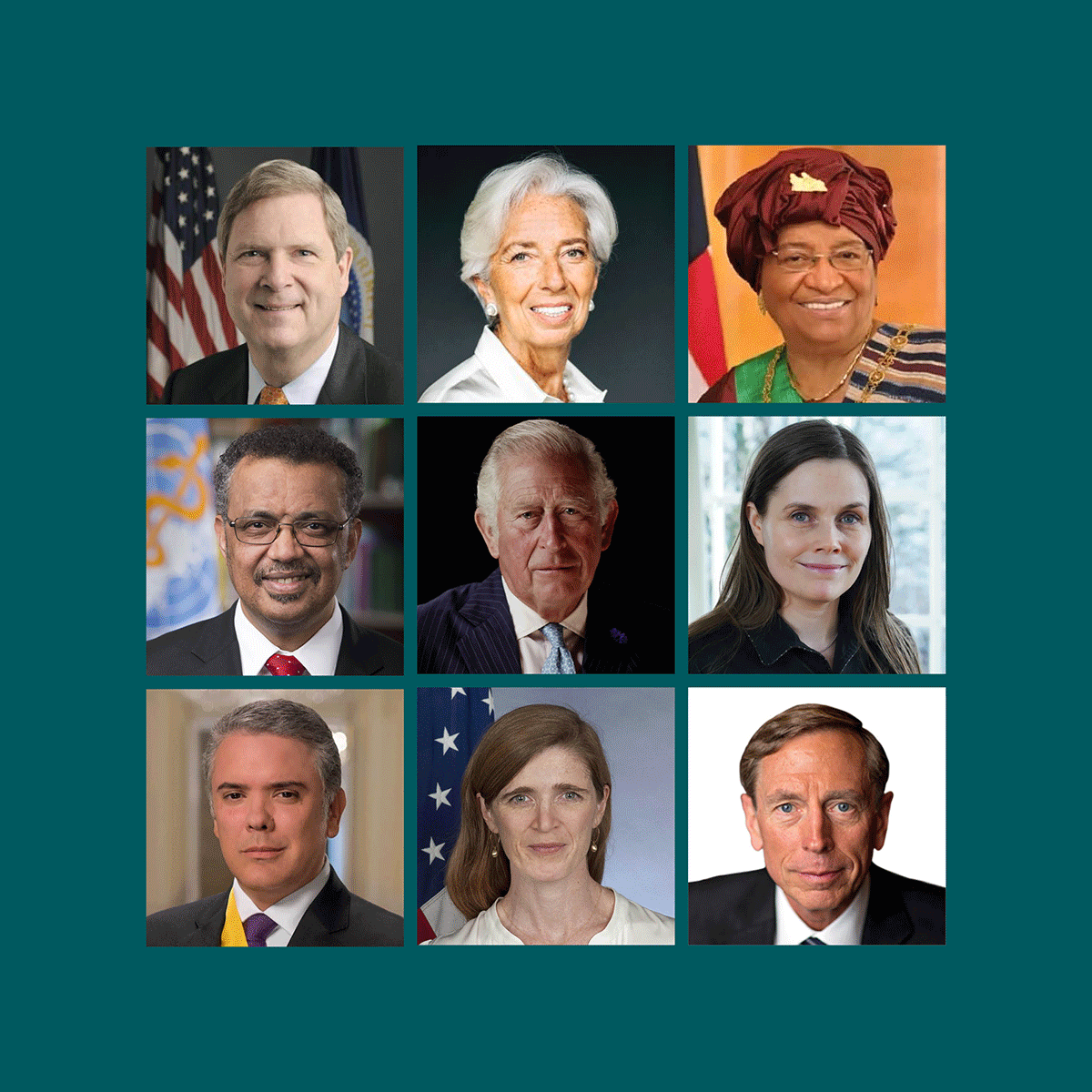 Events
Convening global thought leaders to explore evolving geopolitical issues, offering a diverse group of partners an opportunity to showcase their thought leadership on the key issues of the day.
Demonstrate thought leadership
An FP partnership positions corporations, governments, NGOs, and academic institutions at the forefront of the global debate on the issues that matter most.
---
Enhance brand recognition
FP's events enhance partners' brand recognition, ensuring that their branding stays top of mind for FP's international and influential audience.
---
Engage an influential global audience
FP's virtual events regularly gather attendees from over 100 countries worldwide, engaging decision makers and influencers in government, business, and civil society.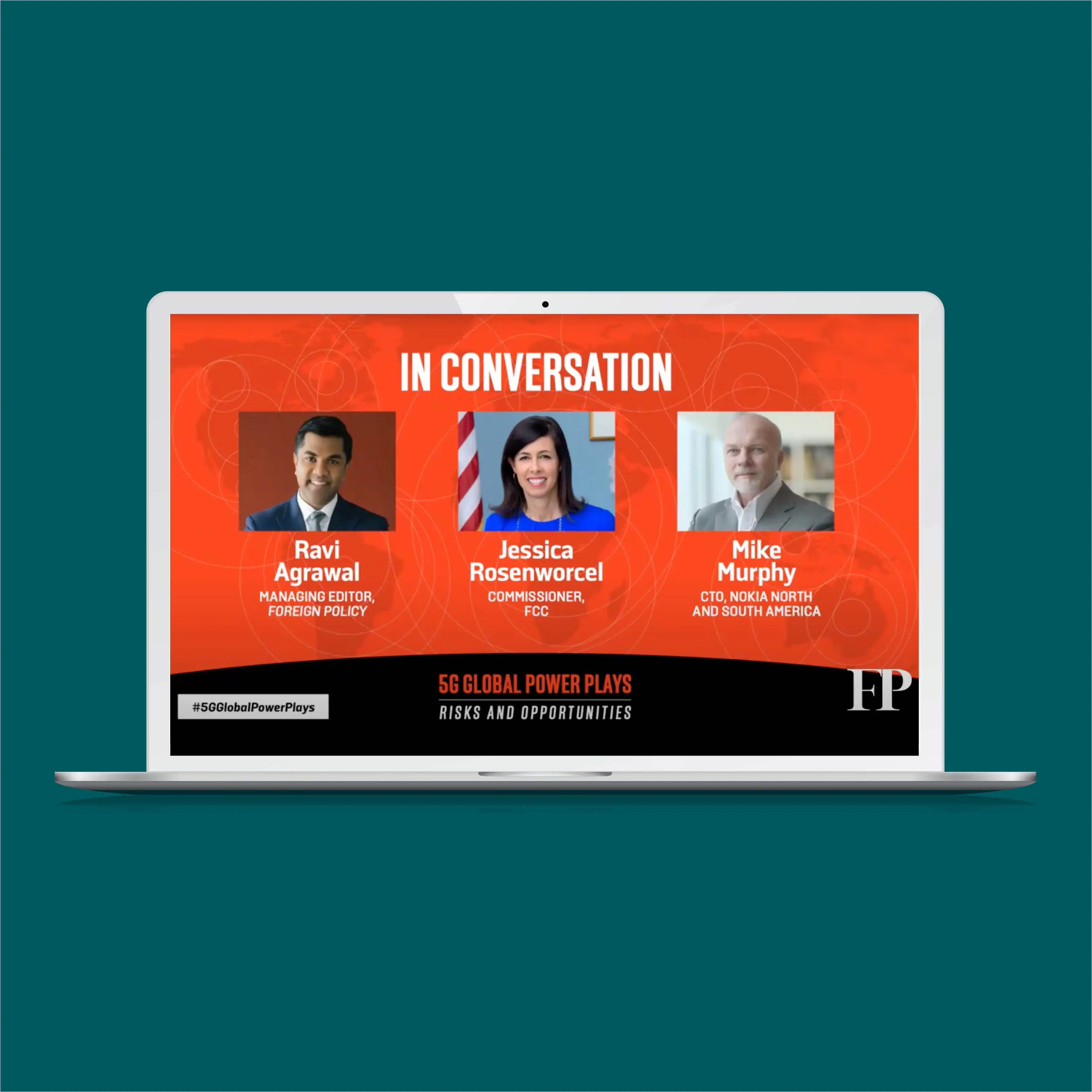 Events Virtual Dialogues
FP virtual events gather policymakers, industry leaders, and experts from around the world to discuss geopolitical and geo-strategic issues that engage our global audience. Dialogues are typically single-sponsor, 1-1.5 hour focused discussions.
FP partnered with Nokia to deliver a three-part Virtual Dialogue series covering 5G expansion, bridging the digital divide, and open telecommunications networks. Featuring insights from FCC commissioners, members of Congress, international policymakers, and industry experts, the series expanded upon FP Analytics' 5G Explained Power Map and positioned Nokia at the center of the global debate on 5G.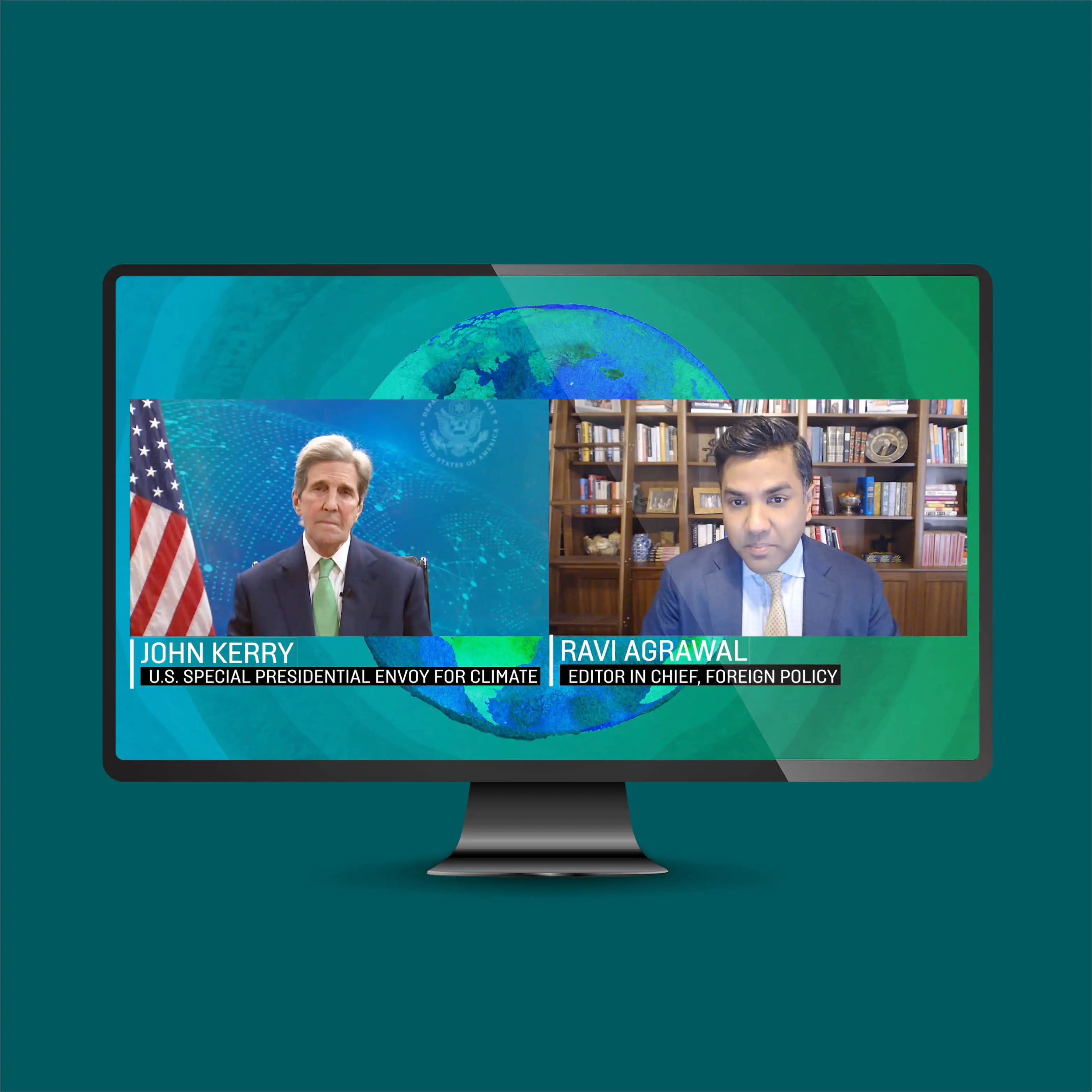 Events Summits
FP's Summits are engaging, high-profile, multi-day events on issues ranging from food security to climate change to gender equity and tech policy. Multi-level summit sponsorships allow partners to support the debate on critical issues and help drive the global discussion forward.
FP's 2021 Inaugural Climate Summit featured insights from U.S. Climate Envoy John Kerry, Prince Charles, Colombian President H.E. Iván Duque Márquez, Icelandic Prime Minister Katrín Jakobsdóttir, U.S. Senator Sheldon Whitehouse, and other top leaders, who discussed innovations and cross-sector strategies for tackling the climate crisis.
11,000+ video views
Attendees from 85+ countries
Watch highlights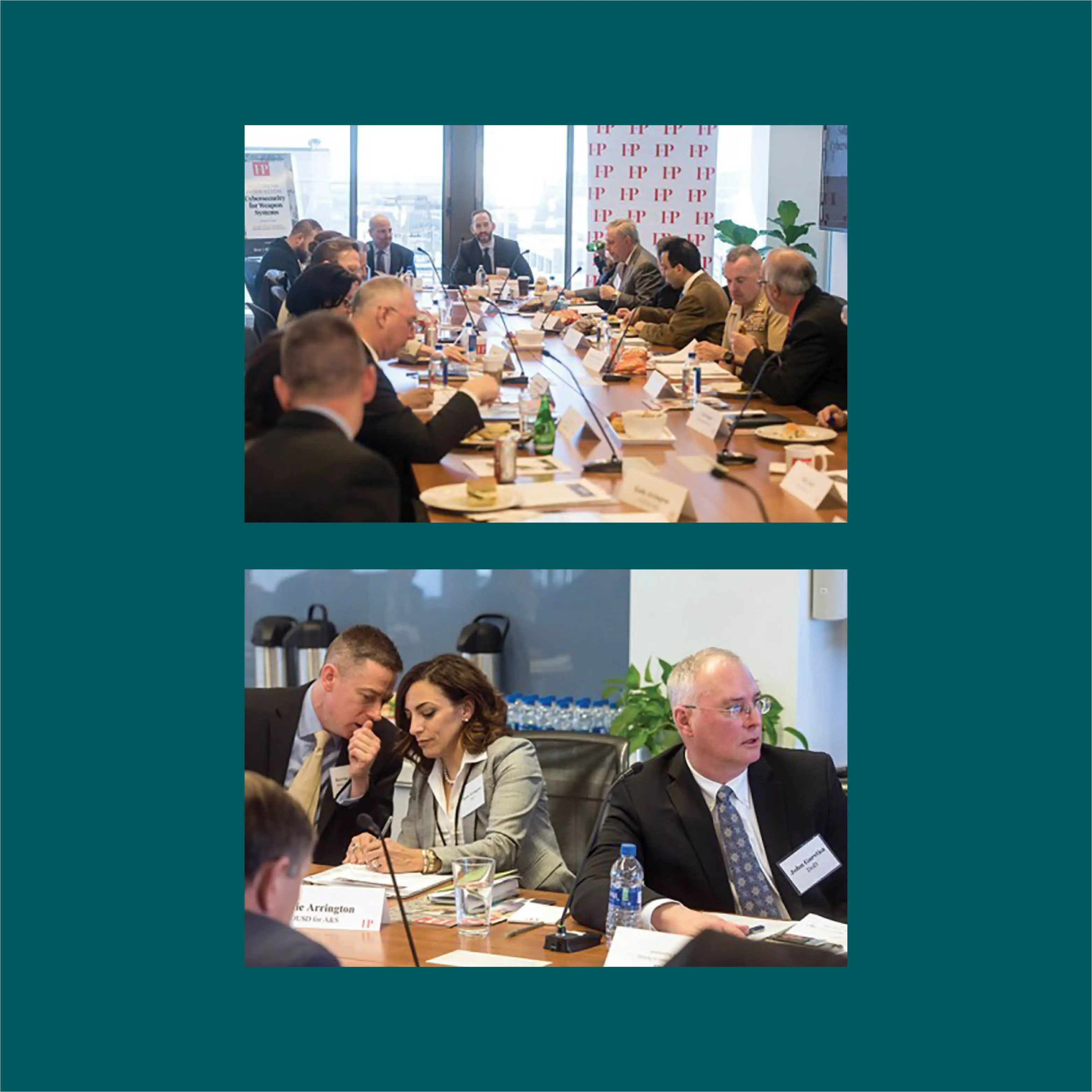 Events Roundtables
Held virtually and in-person, FP's roundtables are intimate, invitation-only events that are expertly curated to foster frank discussions among a select group of stakeholders.
At the Solutions for Mission Success Roundtable, produced in partnership with Booz Allen Hamilton, senior leaders in the Office of the Secretary of Defense, the Joint Chiefs of Staff, the Services, and the U.S. Cyber Command advanced the conversation around cyber security in weapons systems.
Read the report summarizing key takeaways here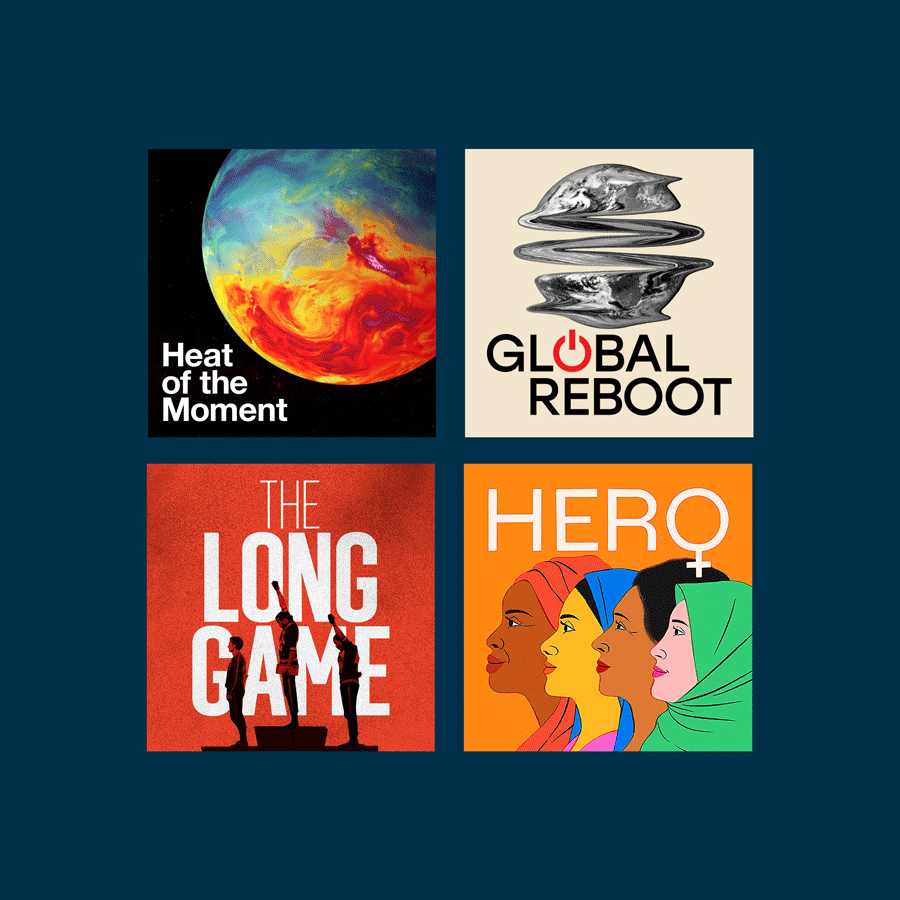 Podcasts
Telling the stories that matter most and amplifying messages across the global stage. Led by the expert producers and editors behind Foreign Policy's critically acclaimed podcasts, FP Studios offers full-lifecycle podcast production to clients who wish to launch their own show as well as advertising opportunities for those who are seeking to reach global audiences and enhance their thought leadership.
Reach a global audience
FP's critically acclaimed podcasts have generated over 9M downloads and engaged loyal listeners in over 160 countries. Advertising in our editorial shows highlights our partners' messaging to our global audience of influencers and decision makers.
---
Launch a new podcast
FP Studios' seasoned experts offer the full-lifecycle podcast production package, including ideation, development, delivery, marketing, and promotion.
---
Elevate issues and drive engagement
With decades of experience developing compelling narratives, FP Studios' podcasts offer an effective way to engage and galvanize global audiences.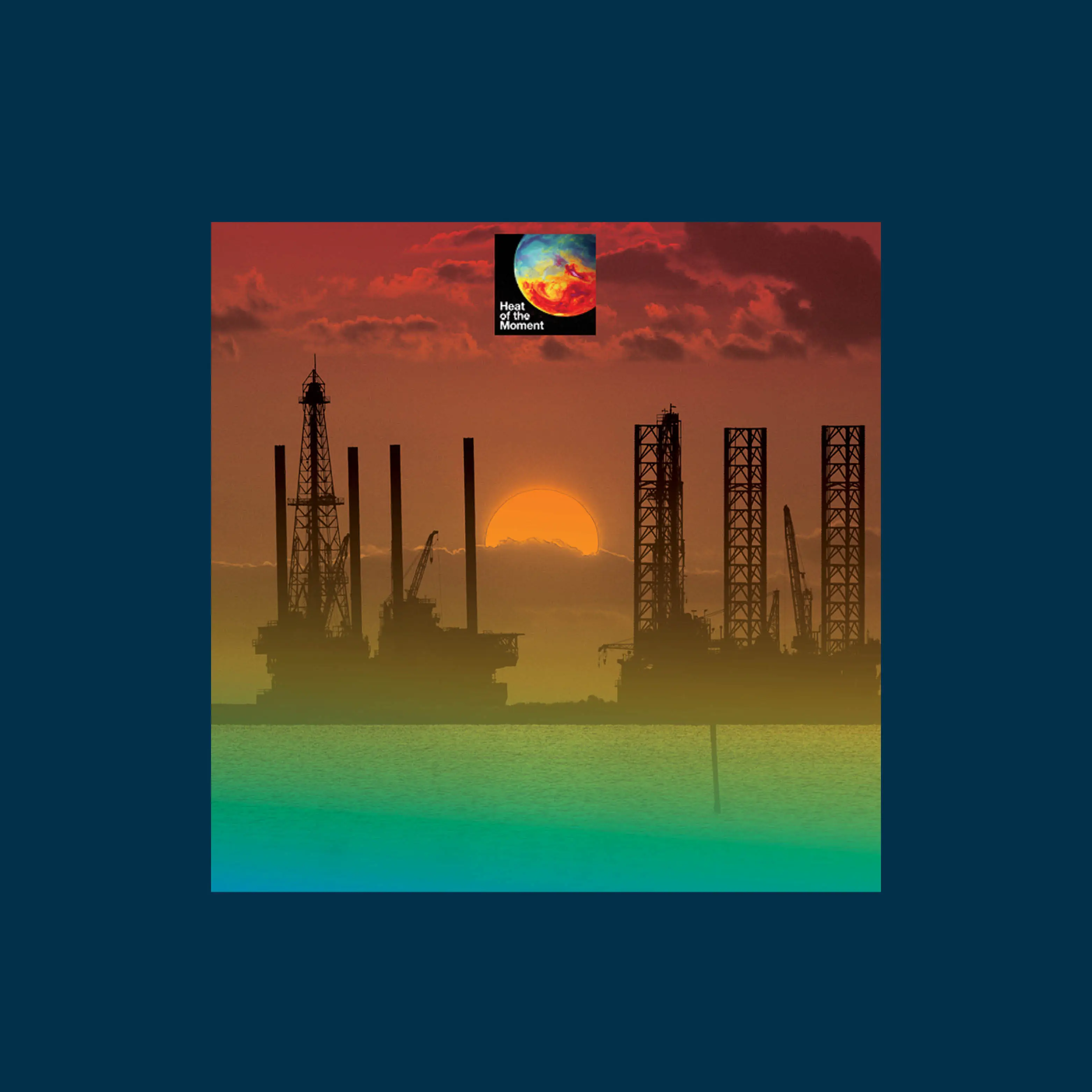 PodcastsCustom Co-Productions
Working with FP Studios to develop a custom podcast ensures world-class production with a sound and look that elevate partners' brands and communications goals. Our ability to bring together insights from high-profile leaders from around the world can help to elevate issues, engage new audiences, and bring a story to life.
Heat of the Moment, created in partnership with the World Bank's Climate Investment Funds and now in its second season, aims to help cure the paralysis in climate change action by highlighting positive global stories about changemakers on the ground. Featuring insights from youth activists like Xiye Bastida and Varshini Prakash, actor and climate activist Ed Begley, and former UN Climate Chief Christiana Figueres, the podcast has been repeatedly featured in Spotify's climate playlist.
Seasons 1 and 2 have been downloaded more than 200,000 times
Listeners in 160 countries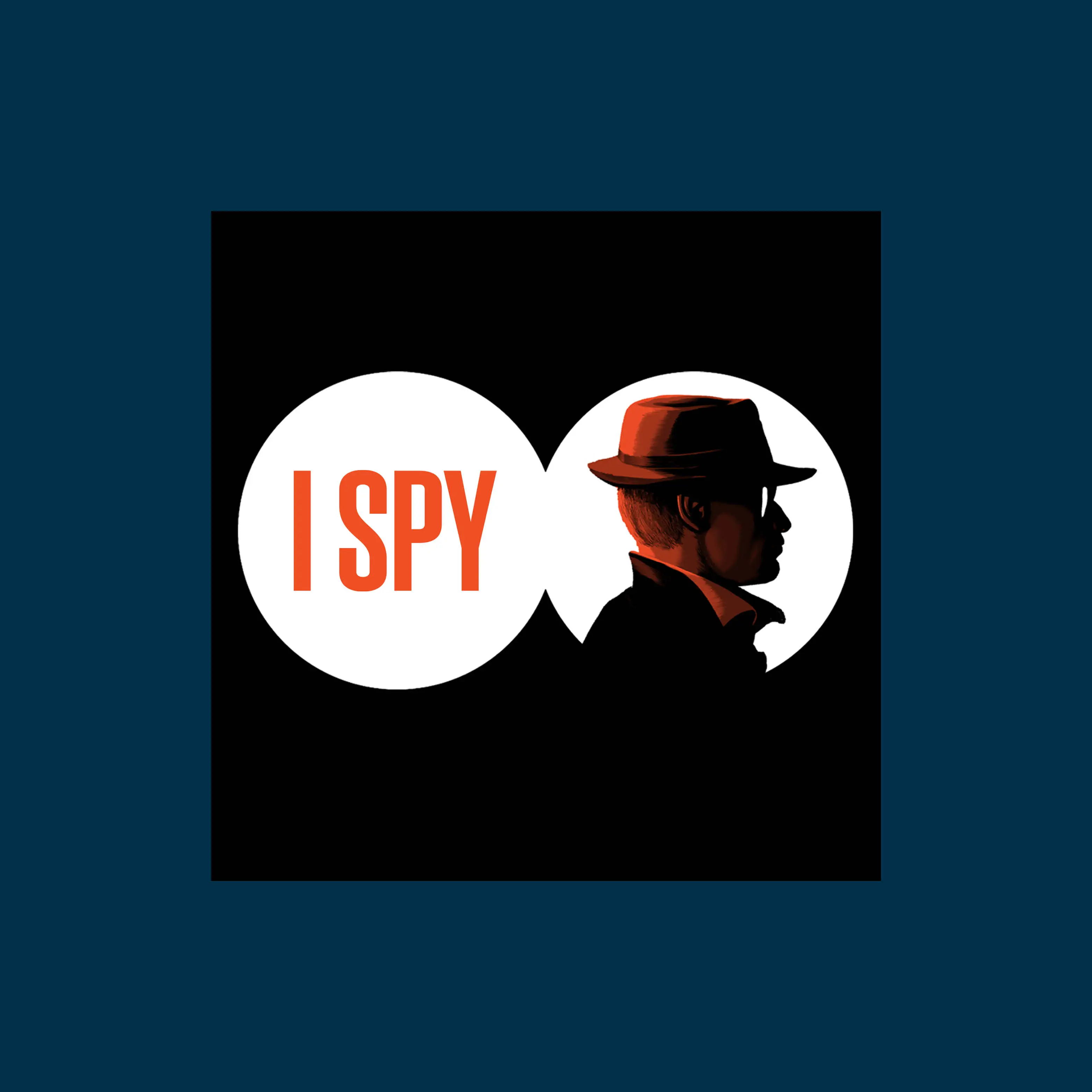 Podcasts Advertising
With 9M+ lifetime downloads across its slate of podcasts, FP produces hit shows that attract loyal, global audiences. Advertisements in FP's podcasts—such as the critically acclaimed I Spy—enable sponsors to deliver their messages directly to FP podcast listeners, with the option for copy to be read by the podcast hosts themselves. A wide range of advertising packages are available, as well as exclusive sponsorship of shows such as FP's economics podcast, Ones and Tooze; signature foreign policy show, Foreign Policy Playlist; or I Spy, featuring conversations with former intelligence operatives.
New York City spy museum Spyscape sponsored the second season of the I Spy podcast, receiving exclusive audio promotions within each episode. This podcast sponsorship package featured Spyscape's logo and branding integrated into all elements of FP newsletters, digital ads, and social media promotion of the podcast—including on the podcast's landing page—and allowed Spyscape to reach I Spy's loyal, global listenership of espionage aficionados.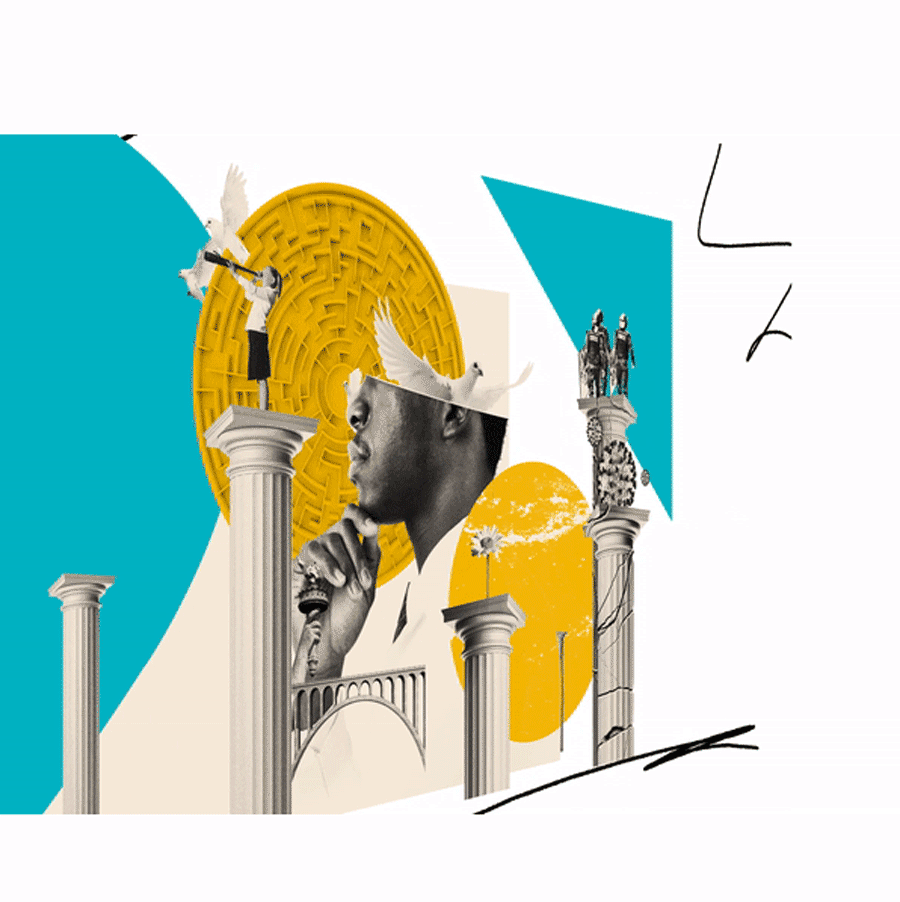 FP Analytics
Generating data-driven insights that inform global policy debates.
Establish Thought Leadership
FP Analytics' research is known for its rigorous, concise, and impartial analysis of complex issues. The analysis is sought after by leaders in global governments, multinational institutions, and academia.
---
Shape the Global Debate
Partnering with FP Analytics can elevate thought-provoking and evidence-based analysis of global issues to inform and engage FP's global and influential audience.
---
Inform Strategic Planning
FP Analytics' rigorous analysis and data-driven insights can help inform partners' investment, operational, and public relations strategies, thus helping to inform and prepare them for geopolitical and market risks emerging around the world.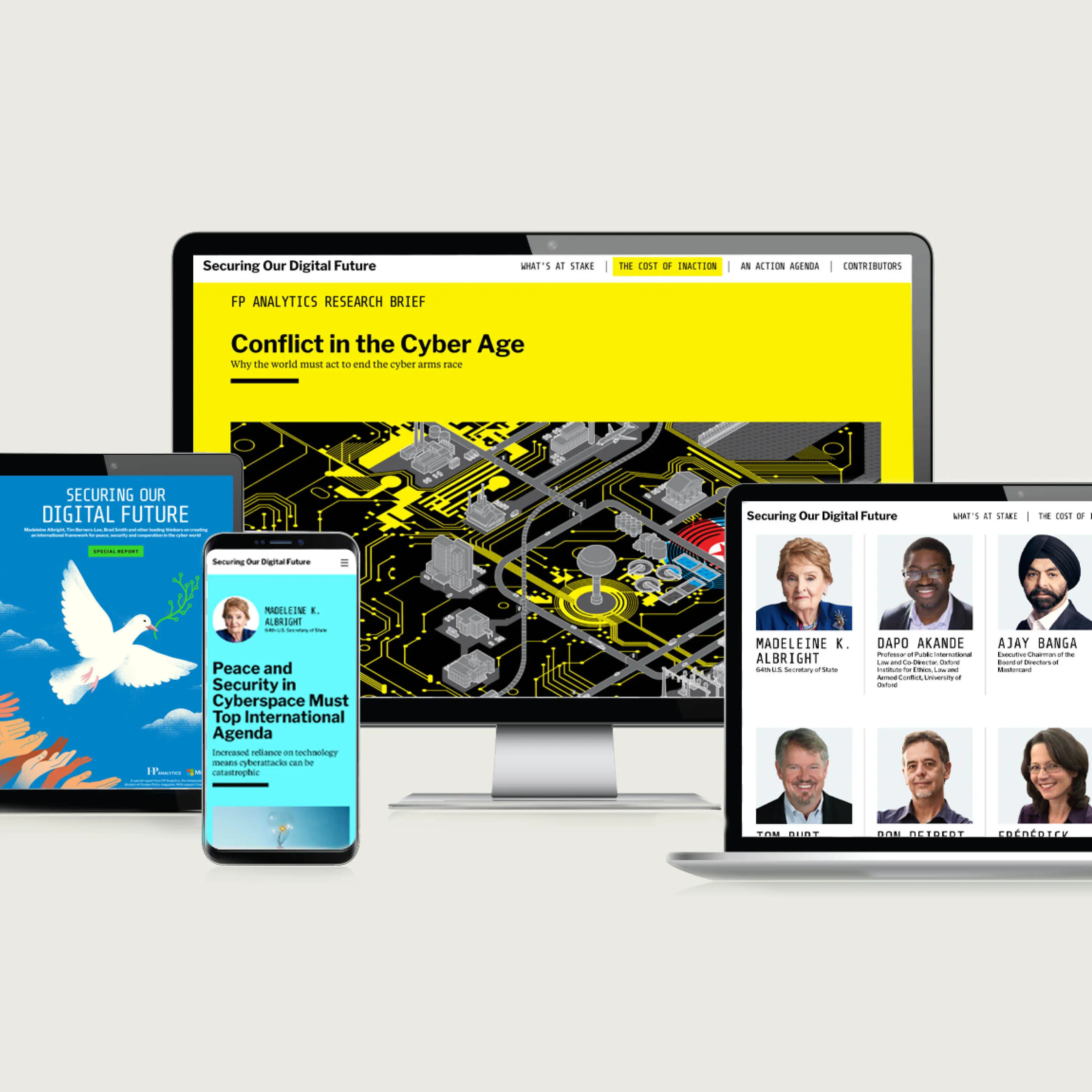 AnalyticsIn-Depth Analysis and Interactive Microsites
FP Analytics produces print and digital reports on a range of complex geopolitical and global competitiveness issues that are shaping the world as we know it.
The Securing Our Digital Future report, delivered in partnership with Microsoft, highlighted the increased weaponization of cyberspace by state and non-state actors and the costs of inaction. Featuring insights from thought leaders like Madeleine Albright, Tim Berners Lee, Irene Kahn, Peter Maurer and Brad Smith, among others, the report was an informative call to action for greater cross-border collaboration on cybersecurity. The project was produced as an interactive microsite and published for distribution to key stakeholders at the 2021 UN General Assembly.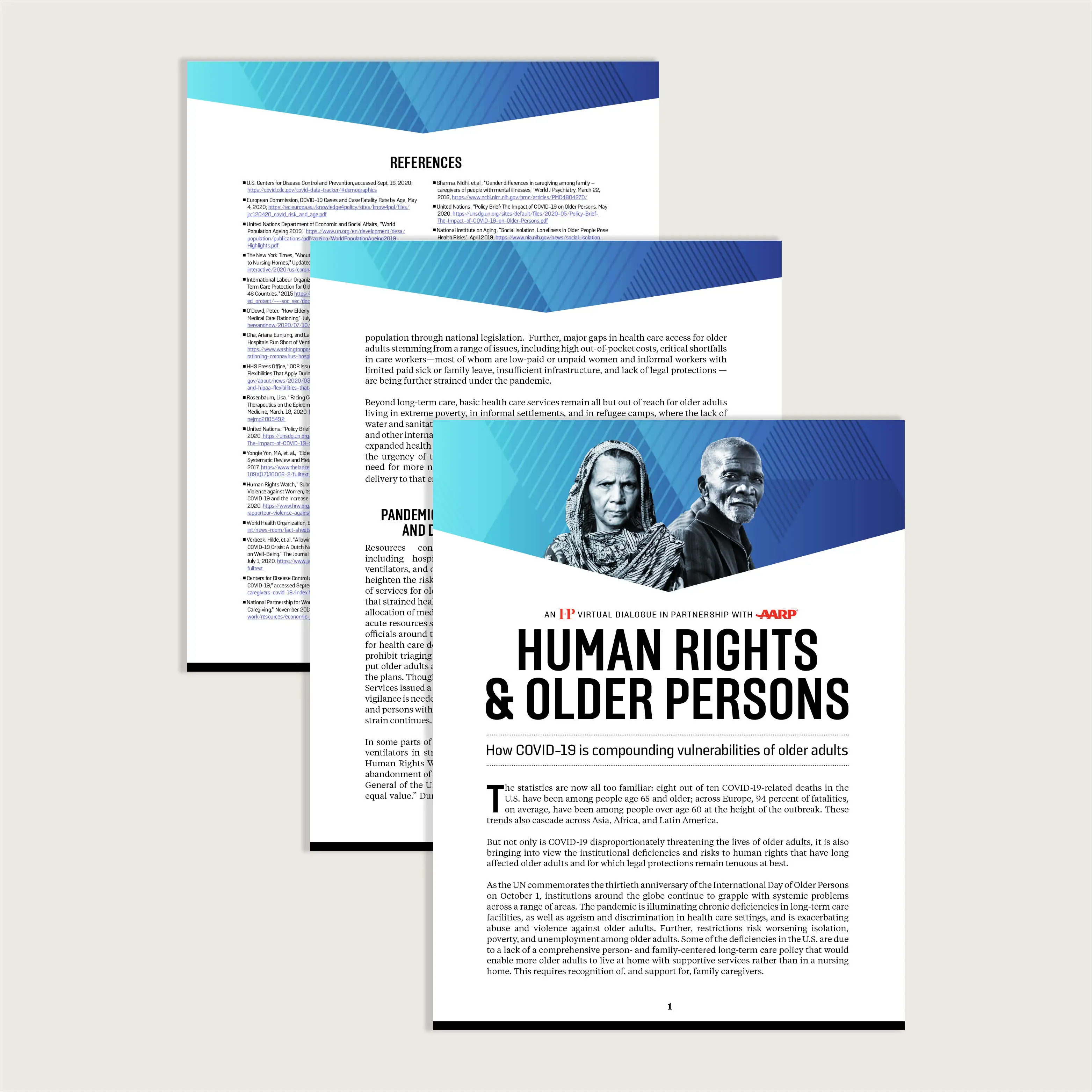 Analytics Issue Briefs
FP Analytics issue briefs are short-form deep-dives into timely issues. They aim to provide expert analysis of the policy and geopolitical landscape surrounding the specific topic in an easily digestible format that can inform audiences and set the stage for an in-depth discussion.
In partnership with AARP, FP Analytics delivered an issue brief on Human Rights & Older Persons to coincide with the 30th anniversary of the International Day of Older Persons. The issue brief formed the foundation of a virtual dialogue featuring global issue experts and decision makers, including UN High Commissioner for Human Rights Michelle Bachelet. The high-profile event has been watched over 1,300 times.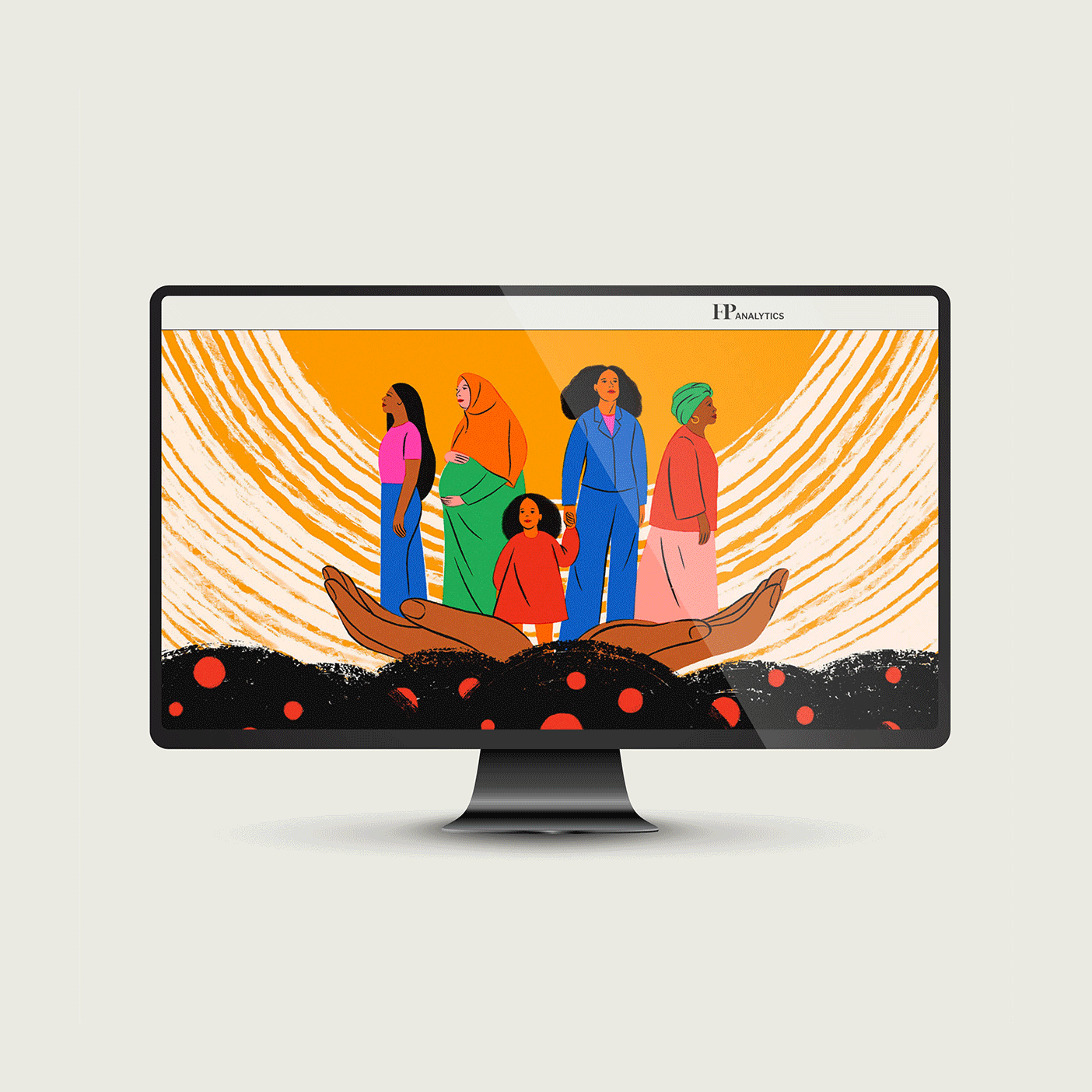 Analytics Synthesis Reports
FP Analytics' synthesis reports highlight key takeaways and compelling insights from FP events. The synthesis reports provide a distillation of the proceedings, elevate calls to action, and advance subsequent dialogue. They help to ensure that issues gain further exposure to FP's global audiences and elevate partners' thought leadership.
FP Analytics delivered a synthesis report of the 2021 Her Power Summit, produced in partnership with the Gates Foundation. The Voices We Need to Hear: Lessons from the 2021 Her Power Summit provided a synthesis of key takeaways and insights from high-profile speakers like Melinda French Gates, Ellen Johnson Sirleaf, Helen Clark, U.S. Senator Tammy Duckworth, and others. The report elevated diverse perspectives of female changemakers from around the world and formed a launch pad for future discussions about how to drive systemic, sustainable change.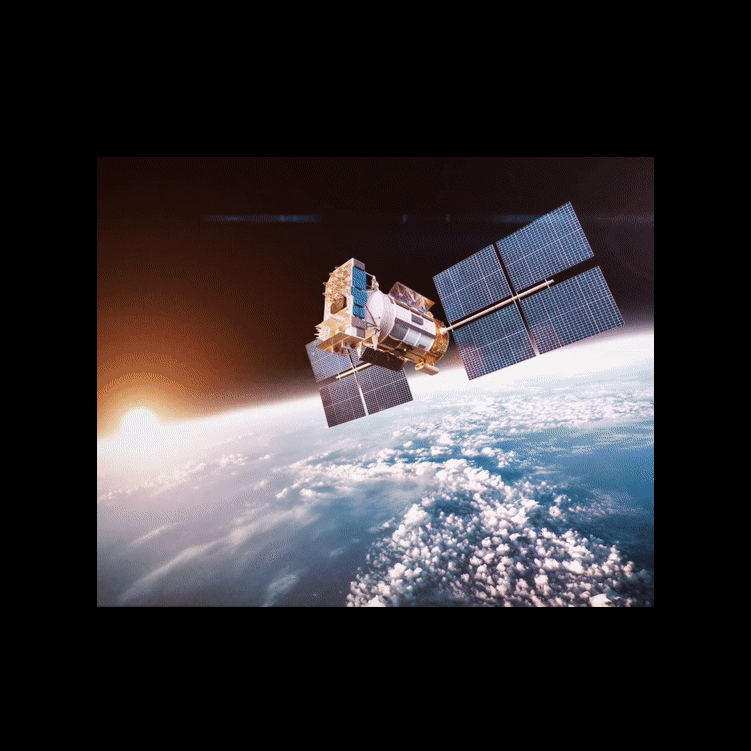 Simulations
Custom-developed scenarios based on in-depth research, where participants interactively game out cooperative responses to cross-border challenges. Simulations can be developed with a number of goals in mind, from training, stress-testing a team, and strategic planning to coalition building and stakeholder engagement. FP Simulations can be held in-person or on our custom-built virtual platform.
Engage key stakeholders and deepen strategic relationships
FP Simulations target thought leaders and practitioners from across the public and private sectors and civil society, enabling our partners to engage them directly and learn from their insights.
---
Enable more strategic and effective planning
FP Simulations provide leaders the chance to plan proactively for a potential crisis, enabling teams to formulate innovative, concrete, and targeted contingency plans.
---
Train and stress-test a team
Partnering with FP Analytics on a bespoke simulation gives teams the opportunity to see how they would respond to a crisis, identify gaps in personnel and processes, and develop strategies for greater preparedness.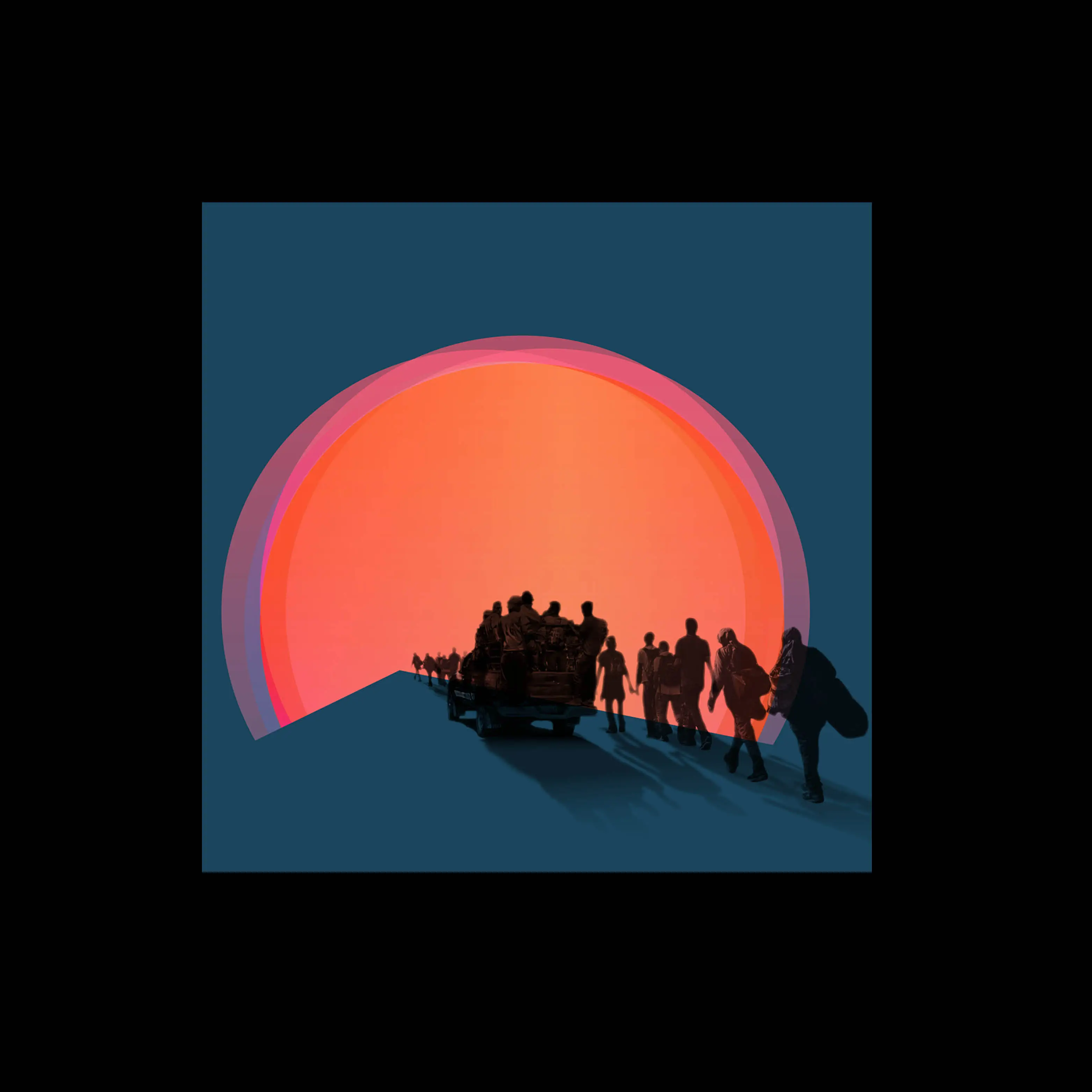 Simulations Crisis Simulations
Based on extensive research, FP Analytics' crisis simulations are in-depth, immersive exercises that allow participants to game out how they would manage a complex, unfolding global emergency and negotiate multistakeholder solutions.
Fostering Resilience in Northern Central America, delivered in partnership with World Vision and the World Bank, challenged a range of stakeholders to work through a scenario navigating internal displacement and forced migration from Guatemala, El Salvador, and Honduras. A post-simulation virtual dialogue featuring Honduran Ambassador to the U.S. Luis Suazo and U.S. Special Envoy for the Northern Triangle Ricardo Zúñiga, among others, elevated outcomes from the simulation and strategies for addressing the root causes of migration.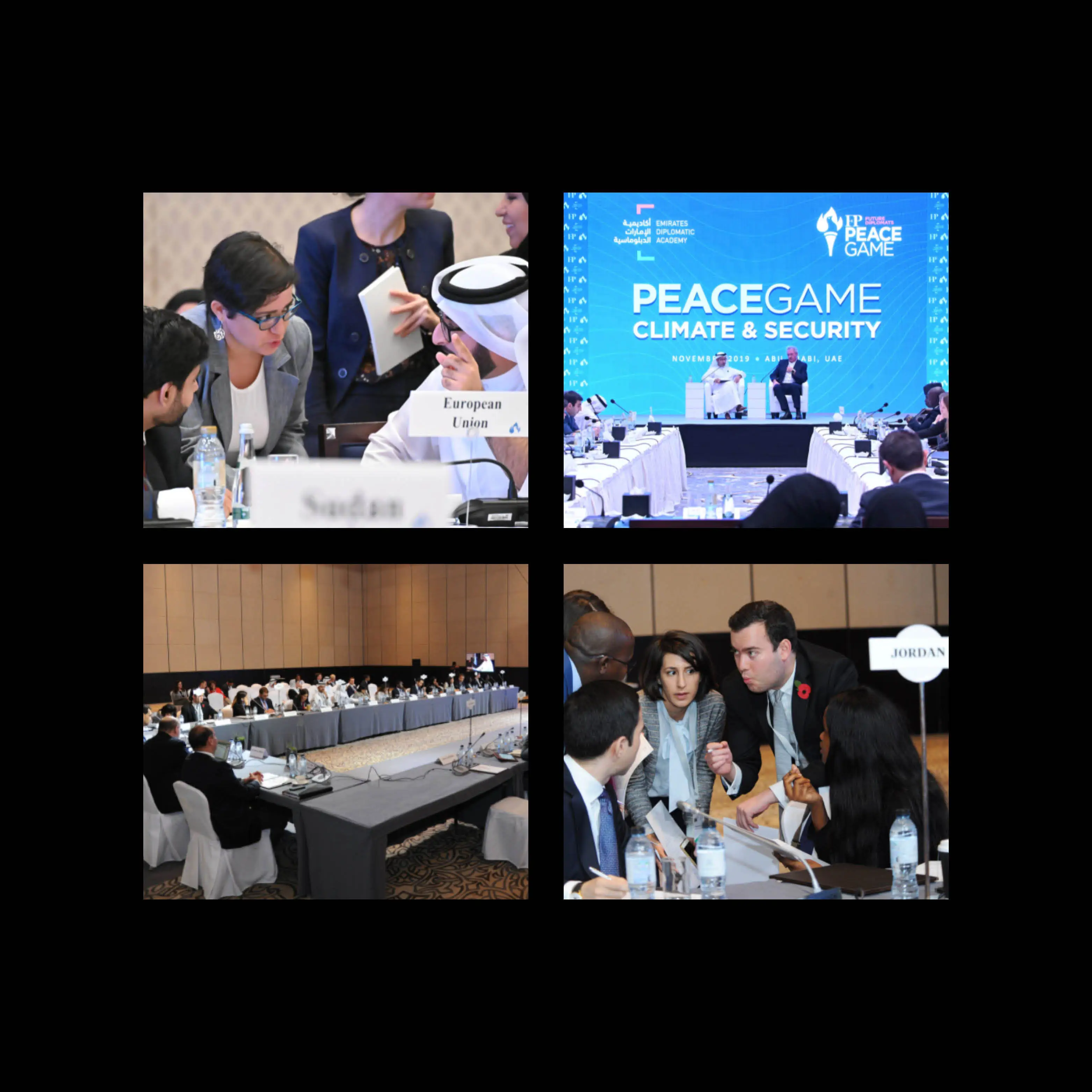 Simulations PeaceGames
FP's PeaceGames, which can be held in-person or virtually, offer partners a unique opportunity to foster discourse on the challenges of diplomacy and peace-building with the same creativity and focus traditionally devoted to war games.
The 2021 Future Diplomats PeaceGame, produced in partnership with the Anwar Gargash Diplomatic Academy, gave young diplomats the opportunity to learn about the international security and governance issues developing from the deployment of advanced weapons and communications technologies in space.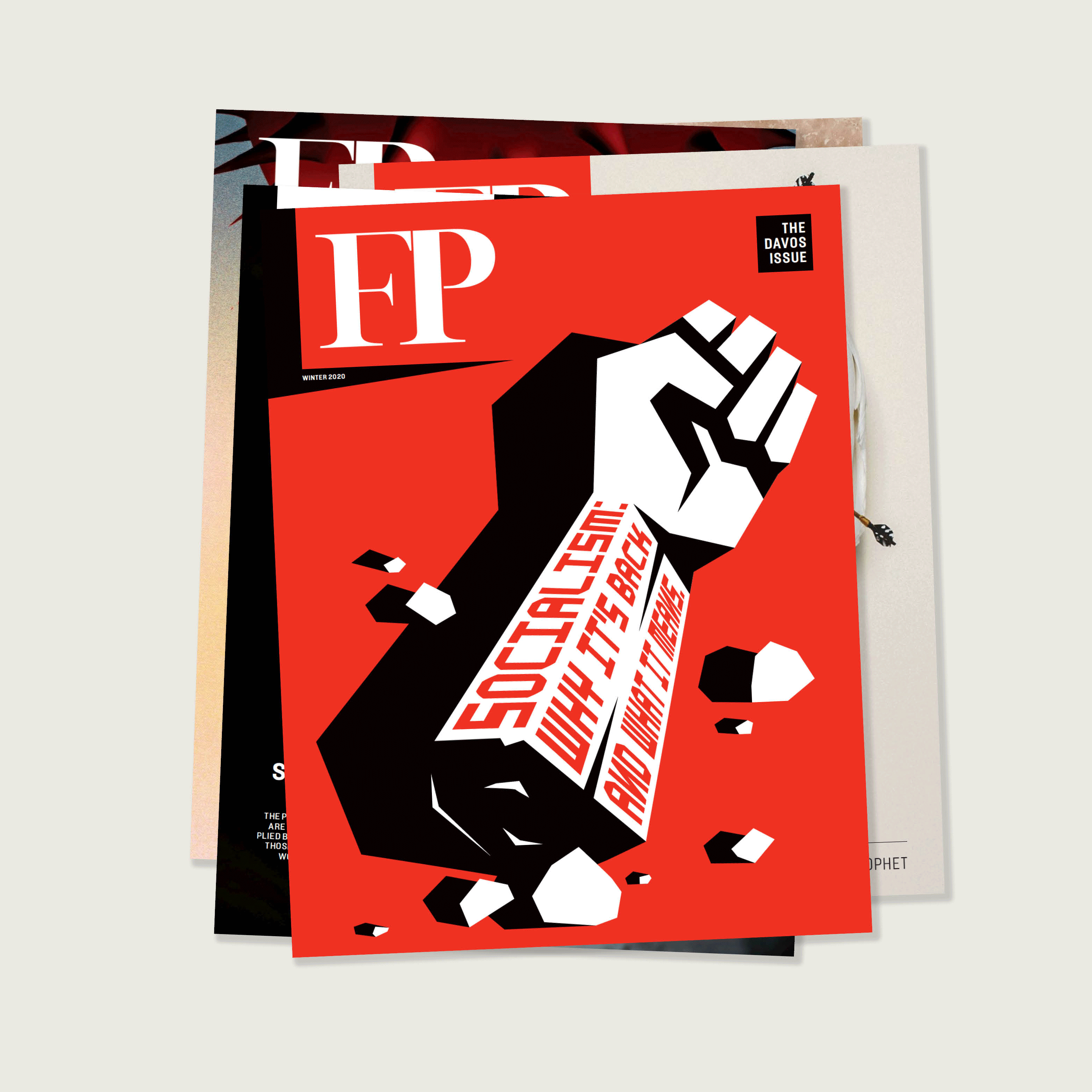 Advertising
FP's digital and print advertising offers our partners the ability to showcase their expertise and organizations alongside our award-winning journalism.
Demonstrate thought leadership
Advertising on foreignpolicy.com or in FP's print magazine prominently displays our partners' messages and elevates their brands alongside our award-winning editorial content.
---
Grow your audience
An advertising partnership with FP gives our like-minded partners the chance to tap into our audience of millions of site visitors from over 150 countries.
---
Generate Leads
Advertising with FP gives our partners the chance to reach potential prospects and enhance their exposure to new markets around the world.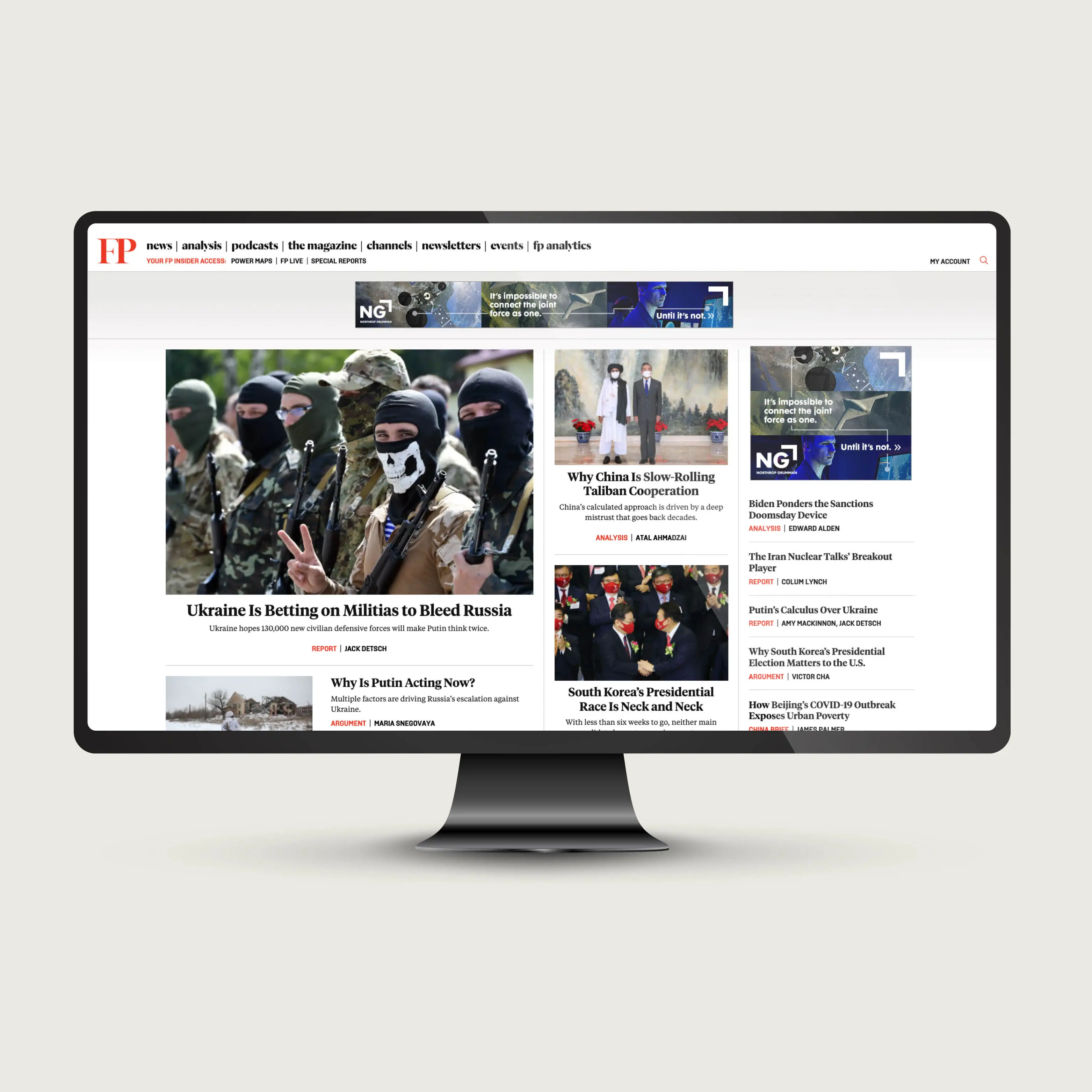 Advertising Digital and PrinT
Our digital ads are a highly visible way to engage FP's millions of monthly site visitors from around the world, while our print advertising offers premium placement and branding opportunities for those who are seeking to engage our most dedicated readers.
Northrop Grumman partnered with FP to deliver a year-long digital ad campaign to promote its cutting-edge, space-based technologies enabling more reliable communication among stakeholders across the U.S. military apparatus. That enabled the company to reach FP's wide audience of readers in the Department of Defense, Army, Air Force, Navy, Marines, DIU, Space Force, CIA, SOUTHCOM, CENTCOM, and more.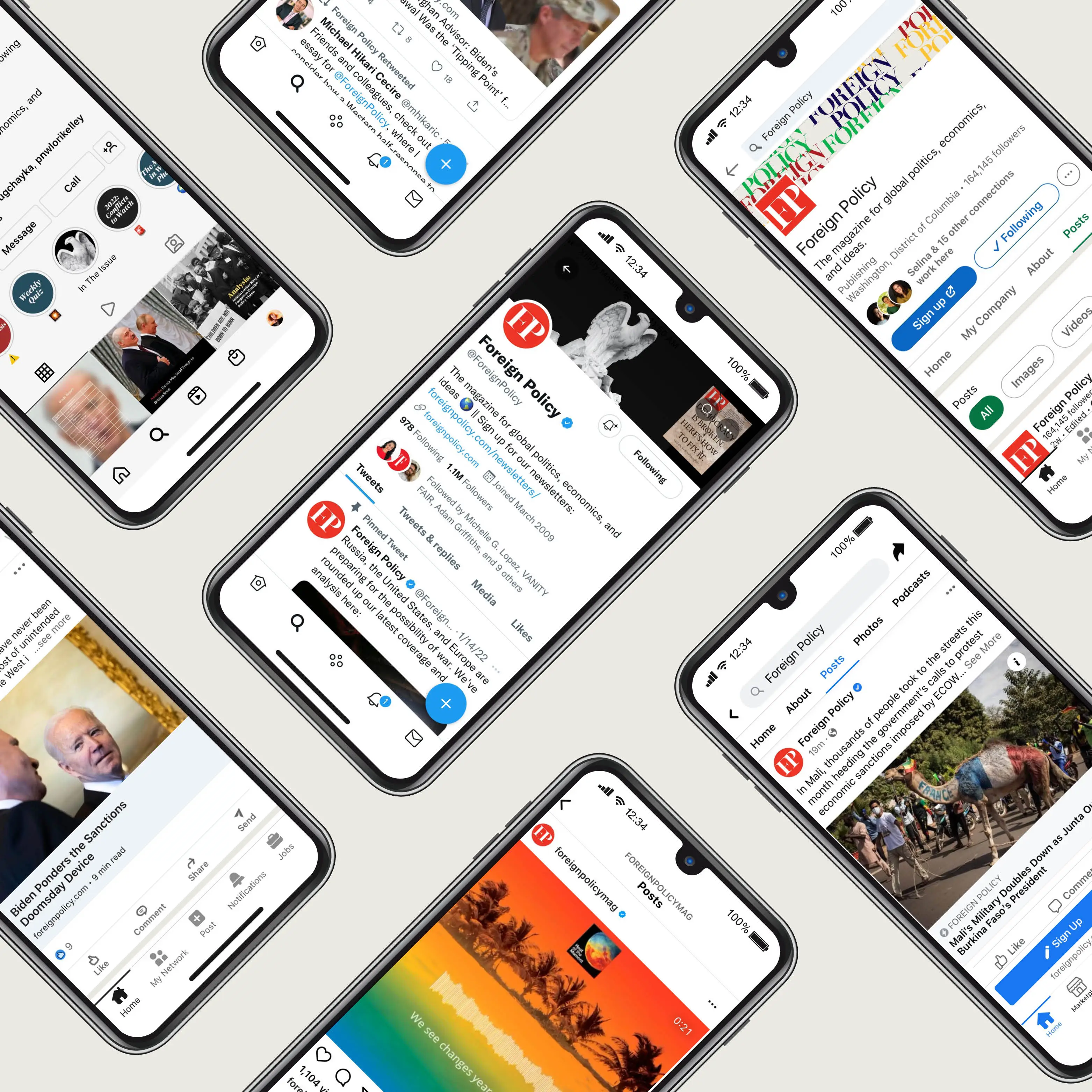 Advertising Social Media
FP's social media platforms have 3M+ total followers from over 150 countries around the world. Sponsored posts, which are intermixed with FP's award-winning content, can be particularly effective for sponsors who hope to engage FP's followers in an intimate and interactive way.
When Northwestern University partnered with FP to promote its Breaking Boundaries podcast, social posts from FP's Twitter (1.1M+ followers) and Facebook (1.5M+ followers) platforms spread the word to FP's active, loyal audience around the world.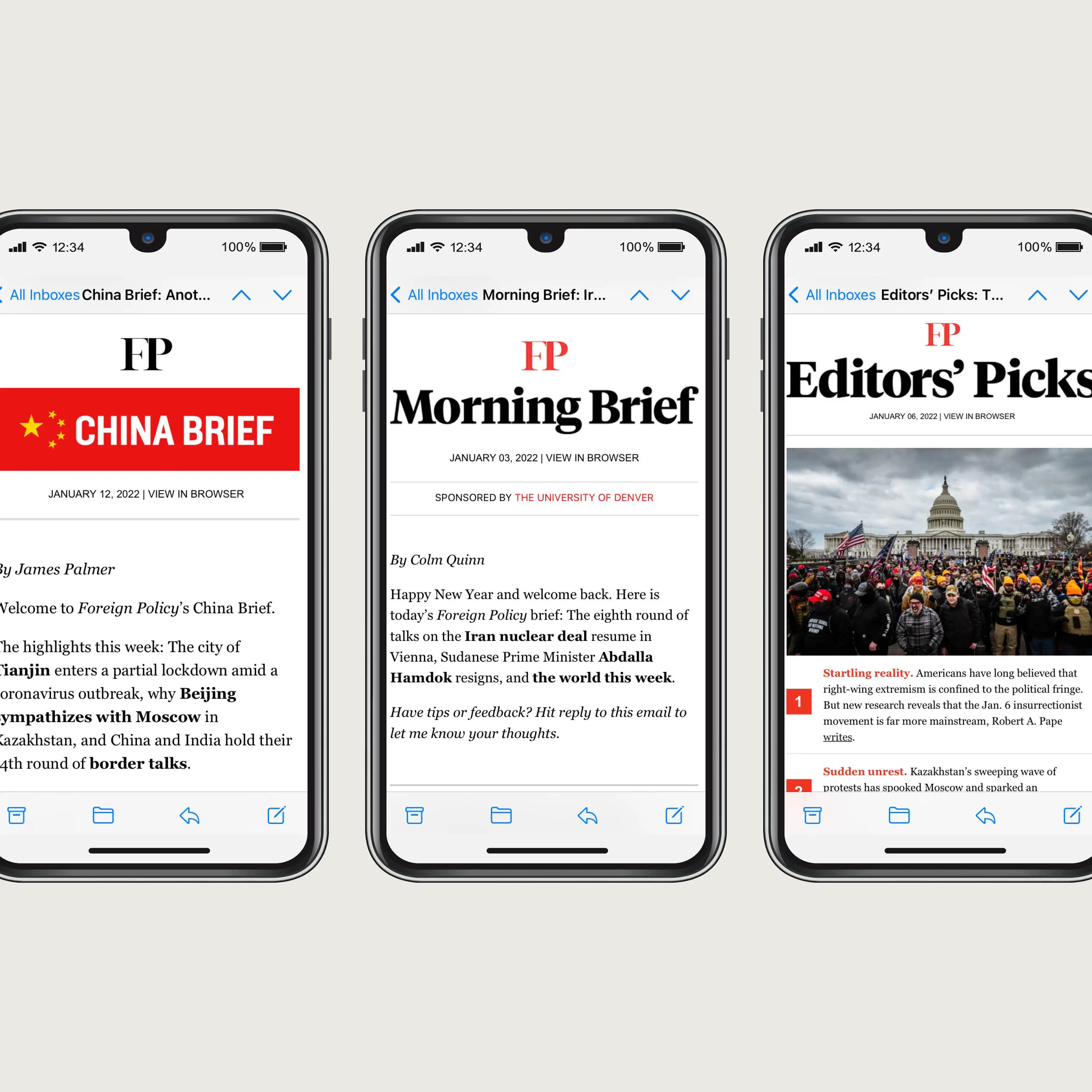 Advertising Newsletters
FP's daily and weekly newsletters reach 860,000+ subscribers, covering a range of topics from broad global affairs to defense to regional news. Our newsletter sponsors can engage policymakers, business executives, and other influencers with messaging delivered directly to their inboxes alongside trusted FP content .
The International Monetary Fund (IMF) and World Bank promoted their 2021 Spring Meetings via a sponsorship of FP's Morning Brief newsletter, reaching FP's global and influential audience and encouraging them to attend and engage with the meetings.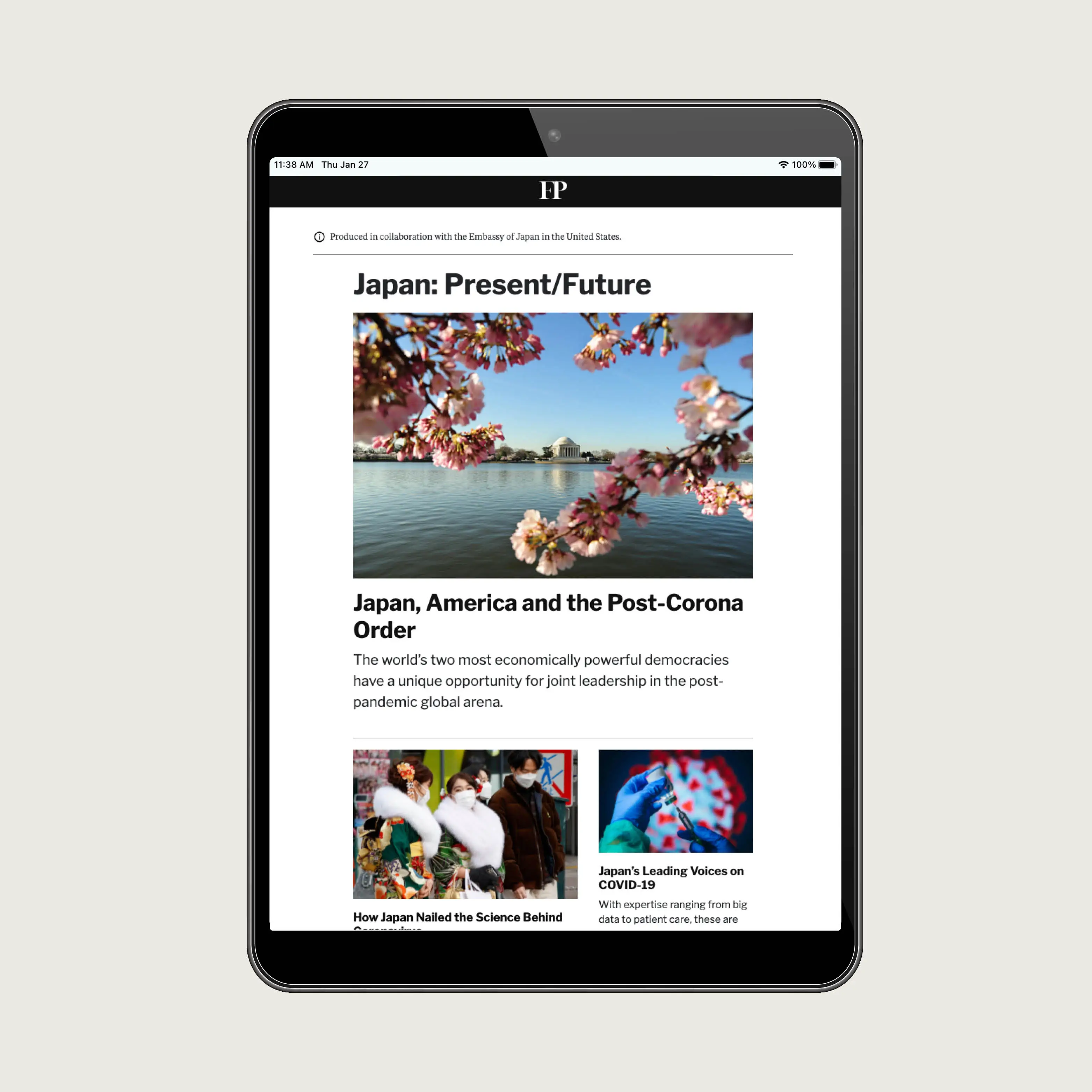 Advertising Sponsored Content
Sponsored content pieces are a powerful way for FP's partners to establish their thought leadership on the issues that matter most to them before FP's global audience of decision makers and influencers in government, business, and civil society. Individual sponsored content pieces receive prominent central placement on FP's homepage alongside the latest curated FP editorial content.
Additional, more extensive sponsored content opportunities are also available for those who are seeking deeper engagement with FP's audience, such as full channels and guides on foreignpolicy.com that host relevant content. Extensive promotional campaigns, which can include digital advertising, newsletter sponsorships, and social media posts, drive FP's readership toward this richly designed, highly interactive content.
The Government of Japan partnered with FP to deliver a country report that showcased the Suga administration's priorities as well as Japan's recent domestic and international successes. Featuring insights from senior government officials like Digital Transformation Minister Takuya Hirai and Ambassador to the U.S. Koji Tomita, the 20-page report was published in FP's summer 2021 print magazine, hosted on a bespoke landing page on foreignpolicy.com, and promoted through an extensive digital ad, newsletter, and social media campaign.